Vs System® 2PCG™: The Buffy Battles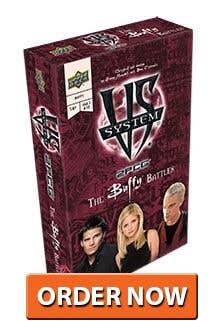 In every generation, there is a chosen one; one who will stand against the forces of darkness.

Buffy the Vampire Slayer™ joins Vs. System® 2PCG®, expanding the game into a new universe! This set brings 200 playable cards across two new team factions: The Scoobies and The Forces of darkness. You'll be able to build decks with your favorite characters from Sunnydale.
Game Contents:
200 Playable cards!
2 new Team Factions!
4 new Main Characters and 13 new supporting characters per team!